The Zonta Club of Grand Island is part of a worldwide service organization of professional women. Members volunteer their time, talents and support to improve the status of women through service and advocacy.
Our club strives to achieve equal education for all women. We have awarded $118,000 for scholarships to help Grand Island women take their place in the world.
We meet on the second Tuesday of the month at the Buffalo Launch Club from September to June. If you are interested in finding out more about our club, or if you are considering membership, please contact us at:

Zonta Officers installed for 2017-18
The Zonta Club of Grand Island installed its new slate of officers May 9 at the Buffalo Launch Club in a ceremony conducted by Zonta Area 3 Director Karen Fritsch, center. From left, the officers are: Linda Isenhart, treasurer; Ricki Harper, board member; Donna Monaco, secretary; JoAnn Hall vice president; Denise Dunbar, board member; Karen Keefe, president; Marla Crawford, board member; and Sue Fleming Brusino, assistant treasurer. Not shown is board member Barbara Nowakowski. The Grand Island club, founded in 1958, celebrates its 60th anniversary next year. The international organization will celebrate its 100thanniversary in 2019. It was founded in 1919 in Buffalo by Marian de Forest, a journalist, author and playwright. The Spirit of Womanhood sculpture in Buffalo's Delaware Park is dedicated to de Forest. Today, Zonta International is a global organization of nearly 30,000 members in 1,200 Zonta clubs in 66 countries. Probably the most famous Zontian was aviation pioneer Amelia Earhart, the first female aviator to fly solo across the Atlantic Ocean. While attempting to circumnavigate the globe in 1937, Earhart's plane disappeared over the central Pacific Ocean. Zonta founded a fellowship in her honor in 1938, , awarded each year to women pursuing their doctorates in aerospace-related sciences and engineering. The local club has awarded more than $117,000 in scholarships to Grand Island women.
Local Club History
The  Zonta Club of Grand Island was founded on Feb. 1, 1958. Its first president was real estate agent Kay LaBrake. Among the charter members was the late Veronica Connor, the longtime superintendent of Grand Island schools, for whom the Middle School was named in 1996. Over the years, our membership has included educators, health care professionals, lawyers and leaders in business and government.
Zonta is a worldwide service organization of women in business and the professions. Our goal is to improve the legal, political, economic, educational, health and professional status of women at the global and local level through service and advocacy.
Founded in 1919 in Buffalo, N.Y., Zonta International has grown to include 1,200 clubs in 64 countries with more than 31,000 members. Zonta's founder, Marian DeForest, was a playwright, journalist and drama critic. She was on the board of women managers for the Pan American Exposition in 1901 and instrumental in forming the Buffalo Philharmonic Orchestra. She was inducted into the National Women's Hall of Fame in 2001 in Seneca Falls, N.Y. She envisioned Zonta International becoming, in her words, "an army of experts who, through friendship, understanding, cooperation and good will, become an irresistible force of peace." In 1928, equal education for girls and women became an organizational priority and Zonta's first U.S. service program. And just look how far we've come! Women are represented at the top levels of all professions – government, education, science, sports – you name it – all over the world. Zonta has helped women achieve their goals and serve their communities, both locally and globally. The organization continues to be on the front lines of the fight for women's equal rights and the prevention of violence against women.
The Zonta Club of Grand Island has raised more than $115,000 to date for scholarships for women. The local club also helps women in developing countries worldwide. We sponsored a young woman in Uganda and paid tuition for her to receive higher education through the Global African Villages Organization. We are proud to have assisted her and expect her to "pay it forward" by supporting other women in her local community.
Zonta Club of Grand Island has donated a check for $500 to the Grand Island Relay For Life. Pictured with the check, from left, are: Becky Stufkosky, Relay co-chair; Maria Burns, Zonta past president; Linda Isenhart, Zonta treasurer; Lynn Dingey, Relay co-chair; and Missy Stolfi, Relay senior community manager.
We have contributed locally to Neighbors Foundation, Child and Family Services, Hospice, Habitat for Humanity, Read and Seed, Carolyn's House, Roswell Park Caner Institute, St. Vincent DePaul, Relay For Life, Grand Island's Miracle League and Rotary's Haiti Medical Clinic, to name only a few. The camaraderie we share helps make the fundraising fun. Many hands working together at the grassroots level adds up to more than 100,000 hands worldwide, making the world a more equal setting for all women.
History by Susan Fleming-Brusino
Zonta Club of Grand Island
Having Fun Together
The Grand Island Zonta Club recently enjoyed its 2016 summer  picnic at a member's home on East River. There was wonderful food, fellowship and a fun activity – a "brown bag auction." Members put an item, old or new, into a paper bag and others bid on it, sight unseen. Member JoAnn Hall, as auctioneer, led the "high-stakes bidding" to a maximum of $5. McMahon's Family Restaurant provided catering, with a nice variety of picnic fare. Members brought beverages and desserts. The club invited five prospective members to the picnic, where they shared the good times and heard an informative talk about the club from past president Agnes Becker. If you are interested in finding out more about Zonta or becoming a member, please visit our contact page on this website.
https://zontagrandisland.org/contact/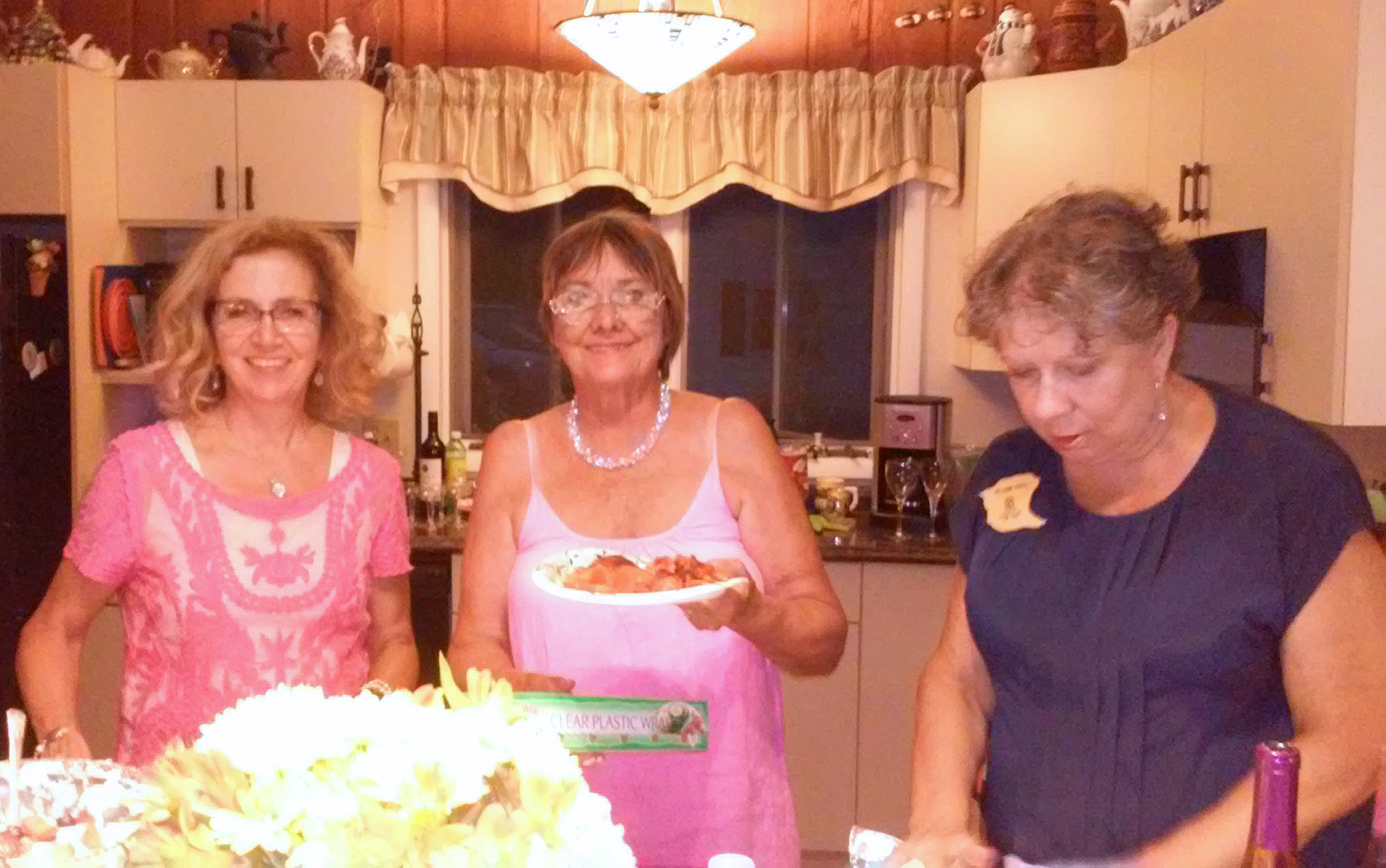 At Zonta's summer picnic, Denise, Linda and JoAnn get a helping of the food catered by McMahon's Family Restaurant.